Florence is often referred to as the shoe capital of the world, especially for women's shoes and men's dress shoes. As the birthplace of Gucci and the town where Salvatore Ferragamo made his name, it was a pioneer of this luxury footwear market and one of its main shopping streets is Via dei Calzaiuoli, which translates to the 'road of shoemakers'. The city's shoe stores offer a range of styles, from comfortable everyday driving shoes to towering stilettos and chunky winter boots; there's a shoe and shop to suit every preference.
Salvatore Ferragamo
Salvatore Ferragamo's vast store and accompanying museum dominates the southernmost end of Via de' Tornabuoni: a suitably grand setting for the father of Florentine shoemaking. Ferragamo started creating shoes in Florence in 1927 and soon made his name producing bespoke footwear for famous names like Judy Garland, Audrey Hepburn and Brigitte Bardot. Today, the principles in which he thought are upheld by his brand, with shoes that fit perfectly and are effortlessly hip.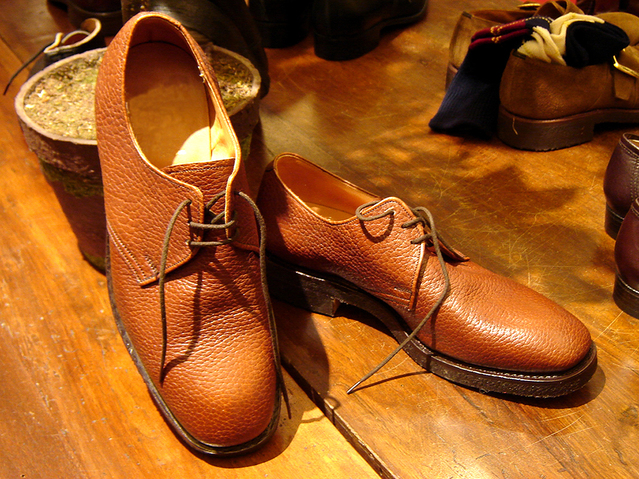 Cesare Paciotti
After taking over the reins in his father's shoe business in 1980, Cesare Paciotti began re-inventing men's dress shoes, turning them from a necessity into a desired accessory. His shoes are constantly on trend, but combine a modern aesthetic with high quality craftsmanship and a timeless quality that's enduringly elegant. Collaborations with Versace, Dolce & Gabbana and Roberto Cavalli have contested his typical aesthetic, though a commitment to pioneering research implies there's always something new to see in shop.
Casadei
High-quality craftsmanship has always been central to Casadei and it's luxurious Via de' Tornabuoni flagship store showcases this calibre in a suitably prestigious site. The expansive boutique exhibits its timeless designs alongside new men's and women's shoes in two big street-facing windows, but there's far more to see inside where the complete collection is placed, including beautifully designed pieces, made in Italy and hand-finished by highly skilled artisans.
Raspini
This Florence-born brand started out with only just one shop but it made its mark as a part of Florentine's artisan craftsmanship, with its reputation for attention to detail and mastery of ability, resulting in a rapid growth and there are now several Raspini shops throughout the city. Its Via Roma boutique is among the biggest and its six windows are known for their extravagant window screens. Expect to discover a selection of international brands in store including D&G, Paul Smith and Stuart Weitzman when you visit the store alongside Raspini originals.
Tod's
The classic moccasin is now synonymous with relaxed chic — a weekend staple which was Tod's standout shoe beginning in the 1980s. The moccasin is typical of Tod's footwear; relaxation is always the main factor, with pieces crafted from the softest Florentine leathers available. However, elegance and tradition are equally valued and each of Tod's hand crafted shoe are as smart as they are comfortable. It's the Via de' Tornabuoni shop that stocks the Tod's full range for women and men alongside an assortment of statement bags and luxury accessories for you to feast your eyes on and maybe even purchase.
These brands are just a few of the staple brands that make up the prestigious Florentine shoe industry, make sure you explore the cobble stone streets and find the boutique homes of shoemakers across the city.