The Yarra Valley is the home of more than 80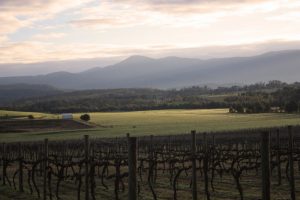 wineries, varying from small, family-owned operations to big estates. This world-famous region is renowned for producing Australia's finest pinot noir and champagne, in addition to a variety of other cool-climate wines. It was Victoria's very first planted wine region back in 1838.
The Yarra Valley wine region is known for its fresh fruit and vegetables, freshwater salmon, trout and eggs, handmade cheeses and preserves. Follow the many self-drive wine trails and fill your picnic basket on the Yarra Valley Food Trail or at the many big, fresh grocery store.
De Bortoli Yarra Valley Estate is among the region's biggest and oldest wineries. The striking contemporary architecture of Tarrawarra Estate stands in plain contrast. See how exceptional wine is made on a behind-the-scenes tour and taste aging wines from the barrel.
Follow the many self-guided wine tracks or forge your own route between the cellar doors. For a complete different view of the valley, join a Yarra Valley tours company and jump in a hot-air balloon overlooking the dawn skies, before landing at a Yarra Valley vineyard to take pleasantly enjoy a breakfast with champagne and freshly-picked produce.
The charm of the Yarra Valley's changing seasons motivated a lot of Australia's early landscape painters. Today it is the house of Australia's earliest artist's colony and you can go to the studios and galleries where they work.
While you are in the area, why not stop by and visit the local Healesville sanctuary animals. Here you can experience one of the largest collection of Australian native wildlife, including spectacular birds of prey, koalas, wombats, kangaroos and dingoes. Take a drive through the beautiful Black Spur to the lovely village of Marysville. Enjoy nature in the Yarra Ranges National forest, Toolangi State Forest or Kinglake National forest. Hear the bell birds or spot a lyrebird in the rich green fern gullies and hazy mountain ash forests located in the Dandenong Ranges National Park.
The Yarra Valley is approximately a one hour drive north-east of Melbourne. There is no public transport to the valley, so the best method to get there is on an arranged tour or by hire vehicle. You can even visit the vineyards by horse-drawn carriage or chauffeured limousine.
In February, top chefs from many of the wineries host banquets complemented by various live music at the Yarra Valley Grape Grazing Festival. The public transport is not plentiful, but you can organise a choufer and even stay in the area for a few nights at many places offering accommodation in yarra valley.